We offer complete car care service from routine dealer recommended maintenance to complete diagnostics and full service auto repair. We know that our reputation is built "one customer at a time" and we appreciate your business.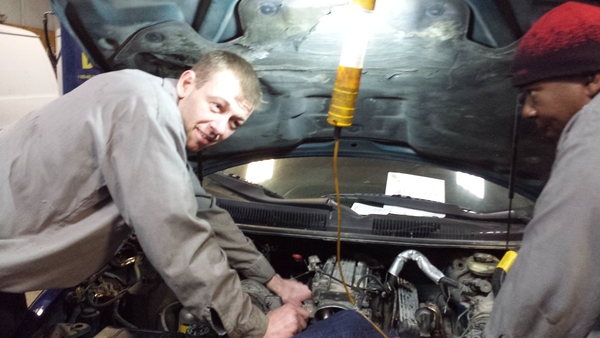 We started our business officially in September of 2004 at our home. We worked full time in our own business until 2008 when my husband (Tim) got the opportunity to go overseas as a D.O. D. contractor where he served for 13 months.
While at home on leave from his overseas duty, we had a house fire that destroyed our home entirely. With our home destroyed by the fire, Tim decided to stay home and help with the rebuilding process. We rebuilt from the ground up and in the better part of six months, we had our home rebuilt! We then decided to reopen our automotive repair business in 2009.
With Tim back in our home and things getting back to normal we decided to expand our shop into a bigger location. We found a spot that would work for our business in September 2010.
We didn't realize how quickly we would expand and needed to start looking for more space. We started taking on fleets and the employees of the businesses where we handled their fleets. Pretty soon we had to make a lot behind the building to accommodate more customers as our current landlord was working on getting us a new building built.
Finally, in May of 2016, after 2 years of needing more space, we got the opportunity to move into another building our landlord also owned and the new location is literally right around the corner from our old location.
Now we are all moved into our new location and haven't even been here 6 months and we are expanding our wings to start including performance exhaust and other performance products. We have and do work on anything from weed eaters to 18-wheelers. We do tires, alignments, oil changes, tune-ups, A/C work, engine work, engine rebuild, R and R engines and transmissions. In fact, the only things we don't currently do is rebuild transmissions and that work is sent out to another shop that's locally owned. We have learned how to work on crane trucks and the hydraulics systems on them. We have learned how to troubleshoot base units on service trucks and we have a motto here that we try to stick to, "If we stick with it, we can figure it out!"....pretty simple. It has been a great learning experience thus far!